Women of the Moose
Conneaut, Ohio
Chapter 86

85th Anniversary
Celebration

Sunday, June 23rd, 2002

at Moose Lodge 472, 280 Park Avenue, Conneaut, Ohio
Ph# (440) 599-1472

Our 85th Anniversary Celebration was a fine success!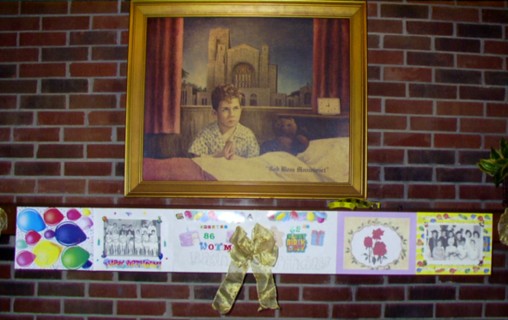 It wasn't quite as big as we had hoped however, we had lots and lots to eat and drink. There was more food than we could possibly eat.
Below are some pictures and more will be added as soon as they are available.
We had an honored guest.
Her name is FannieKettell and she has been a active member of our Chapter 86 for 64 years.
She will be celebrating her 95th birthday very soon.
HAPPY 95TH BIRTHDAY, FANNIE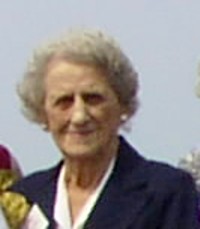 Our Senior Regent, Kathryn Stewart, baked 2 of these delicious spice cakes for our celebration.
Below is Marge McCormack pinning on a beautiful handmade rose on one of our past Senior Regents.
Each Past and Present Senior Regent received one of these roses.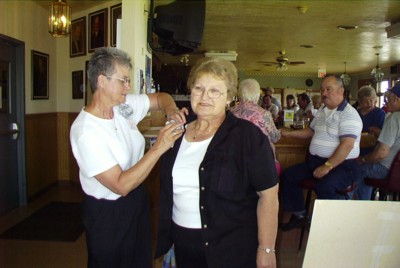 Next is Marge at the sign-in table assisting incoming guests.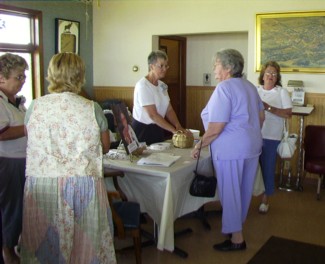 Below you can see a wide array of donated items for our Chinese Auction.
See list of Businesses that donated items at end of this page.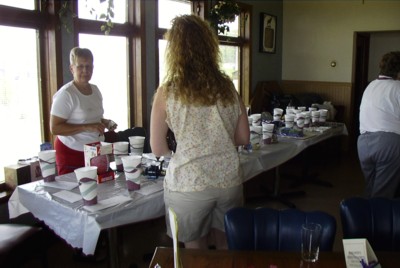 Below is Betty Morano (on right) who was taking care of the Chinese Auction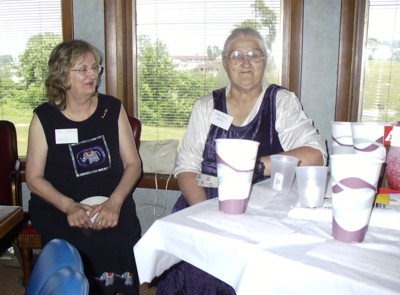 We apologize for the poor quality of this photo.
Pictured here are officers from one of the Erie Chapters of the Women of the Moose.
We appreciate your support.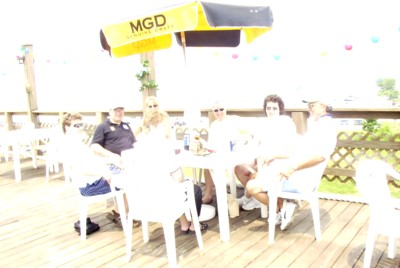 Among the entertainment for our celebration were Clowns to entertain young and old alike.
Meet Sparky the Magic Clown (on left) and Checkers the Clown (on right)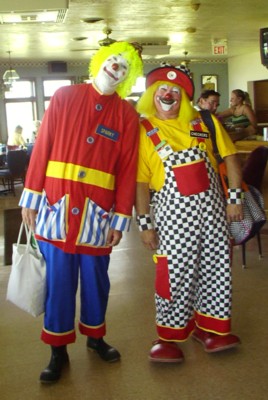 Below is Checkers the Clown making balloon animals for Nancy Weaver's grandchildren.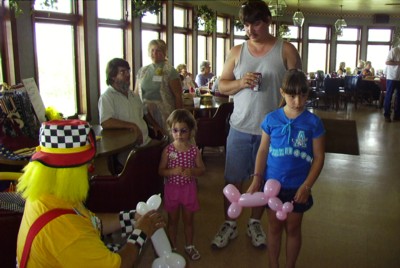 Here, again, is Checkers at work doing magic with his balloons.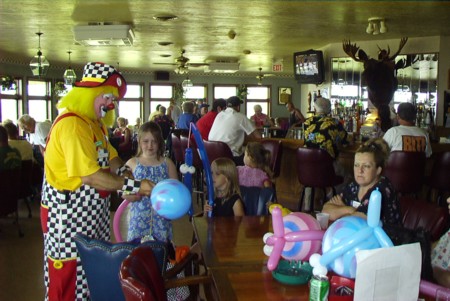 Next you can see Sparky making a flower for Fannie.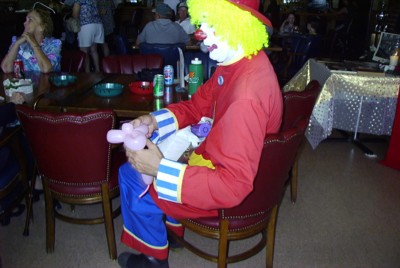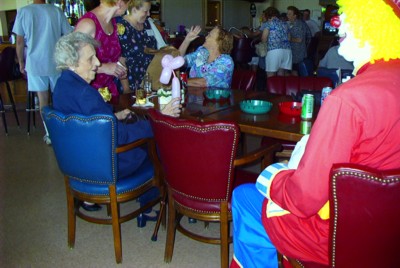 Pictured below is Vee Loomis, Assistant Guide and our Administrator, Pat Sabados,
looking over the guest book.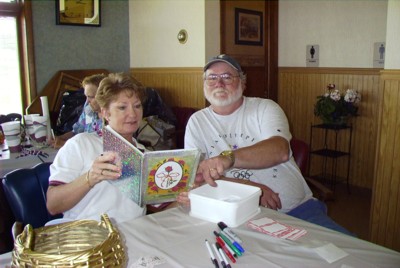 Next is our LOOM Lodge #472, Governor, Rich Artman, enjoying the beautiful day on our deck.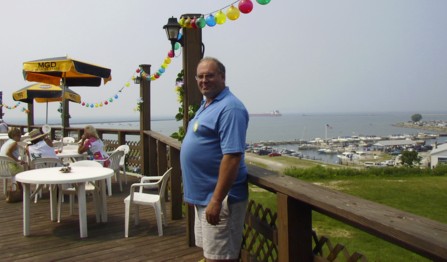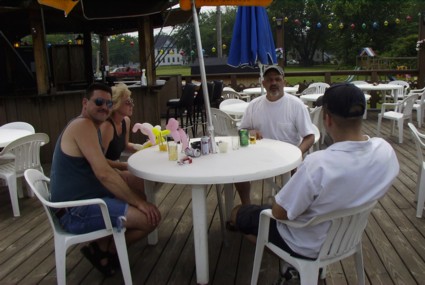 There was Karaoke on the deck.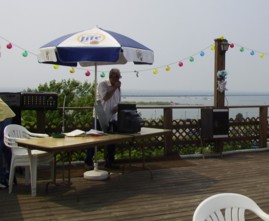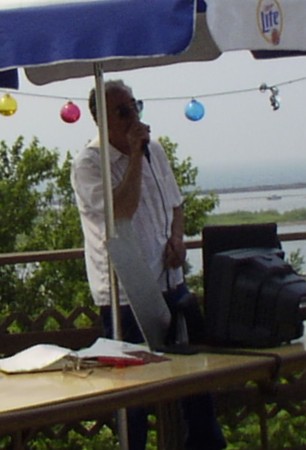 Our Drink Hut, on the deck, was opened for the occasion.

Lots of food was donated by our Women of the Moose members.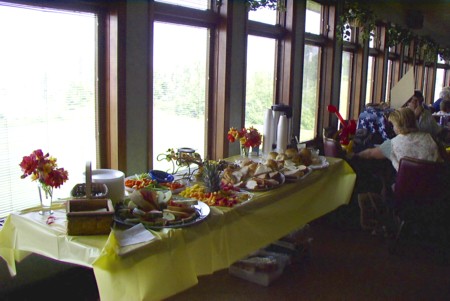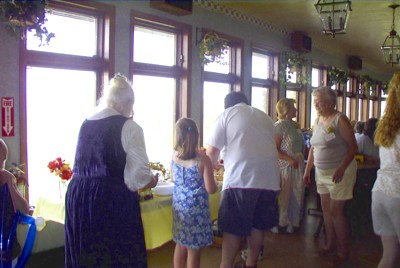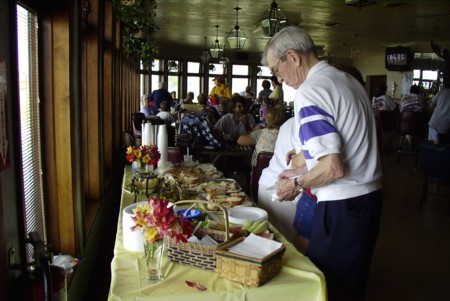 Pictured below is Fran Tessemer (left), her mother and her brother.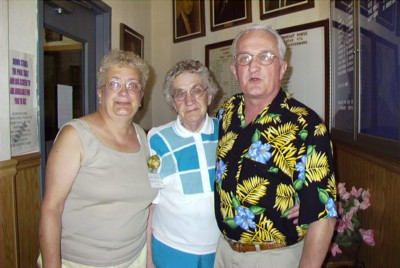 Nancy Hardin greets guests.

This gentleman is sitting on the deck enjoying the fresh lake air.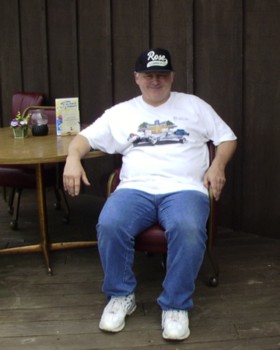 Pictured below are several of the Past Senior Regents including Fannie (2nd from right) who is our 60 year member of the Women of the Moose.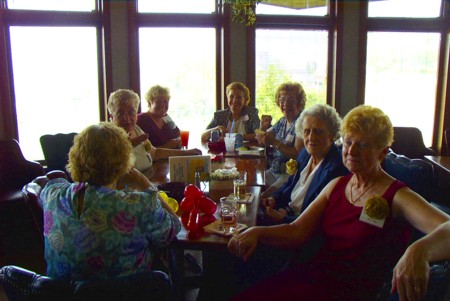 A View of our guests having a great time.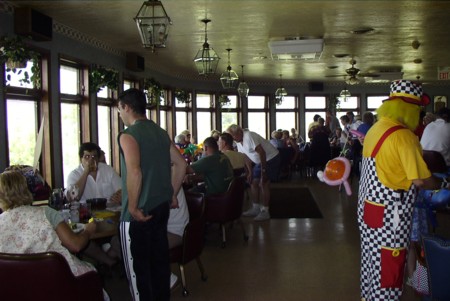 AND FINALLY....
OUR PAST SENIOR REGENTS.
Standing from left to right back row are:
Fran Tessemer, Nancy Weaver, Diane Saylor, Fannie Kettell, Winnie Guy, Mary Jo Vasti, Bonnie Snyder, Patricia Hunter, Marge McCormack, Ruth Mooney.
Seated from left to right are:
Kathryn Stewart, Vee Loomis, Nancy Hardin and Verna Hamilton.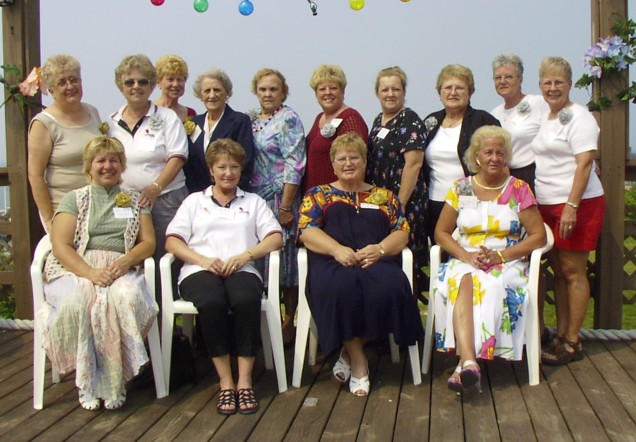 Below is our College of Regents in Cap & Gown.
Standing from left to right are:
Fran Tessemer, Diane Saylor, Nancy Hardin, Ruth Mooney, Bonnie Snyder & Marge McCormack.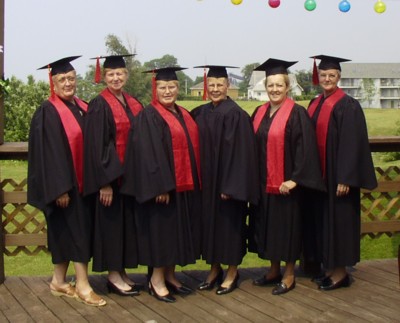 A BIG THANK YOU TO THE MANY BUSINESSES AND PEOPLE
THAT DONATED PRIZES FOR OUR
85TH ANNIVERSARY PARTY OF THE WOMEN OF THE MOOSE.
Some of them are listed below
Days Inn of Conneaut
600 Days Blvd.
Conneaut, OH 44030
593-6000
Snug Harbor Bait & Tackle
1021 Broad St.
Conneaut, OH 44030
593-3755
White Turkey Drive-In
388 E. Main Rd.
Conneaut, OH 44030
593-2209
State Street Diner
251 State St.
Conneaut, OH 44030
593-5061
Antonette's Pizza
933 Broad St.
Conneaut, OH 44030
593-4466
Gerdes Pharmacy
245 Main St.
Conneaut, OH 44030
593-2578
Morris Gifts & Flowers
176 Washington St.
Conneaut, OH 44030
593-1196
High Street Hair House
200 High St.
Conneaut, OH 44030
599-9399
North East Cycle
Main St.
Conneaut, OH 44030
Greg Sweet Chevrolet-Buick-Oldsmobile
-Pontiac, Inc.
286 E. Main Rd.
Conneaut, OH 44030
599-8118
WWOW Radio
donated free
Advertising
Thanks to the many donations by members of our lodge
Just a little addition..... Happy Birthday to my daughter, Joan.
I did not get to be with her due to this Celebration.
June 23rd is her birthday. ~ Sharon Wick
This web page was created by Sharon Wick 2002